Le rêve américain: Le mariage d'Ashley et Michael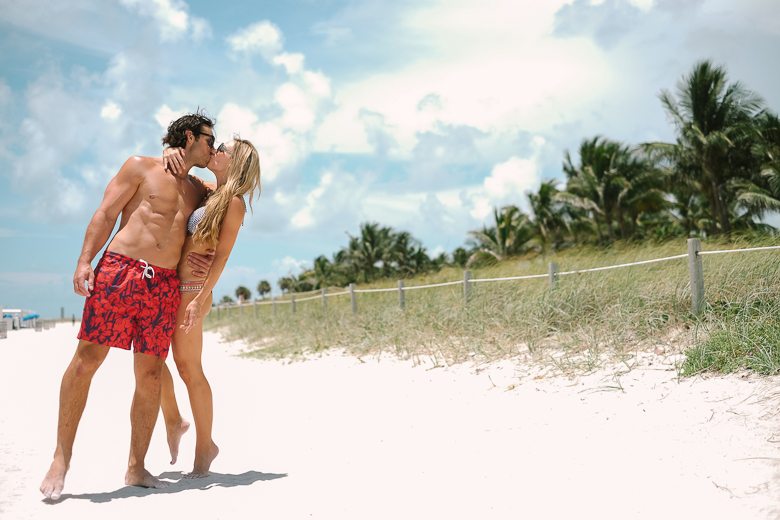 Salut les filles!
Comme promis hier soir, un mariage américain comme sur les cartes postales immortalisé par Fred Frognier de K-Pture photography.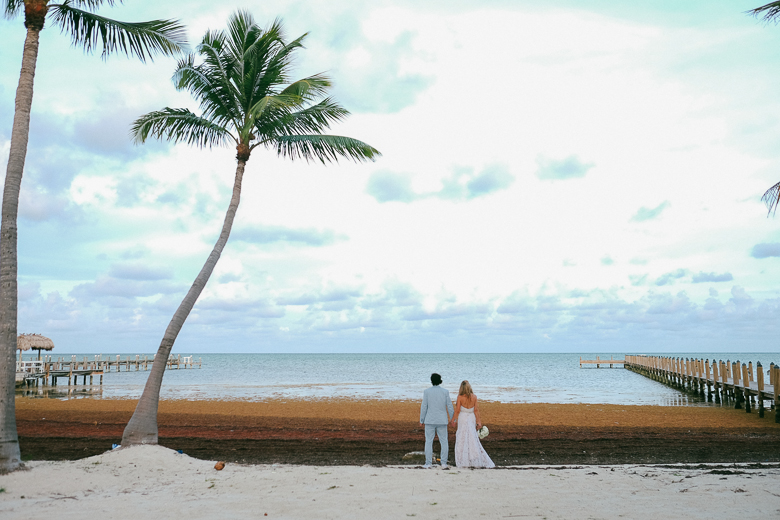 Pour la 1ère fois sur Love & Tralala, un témoignage en anglais  de ce couple d'amoureux <3
How have you met?
It took me a year to convince Ashley to go out on a date with me.  After that first date, we have been inseparable. I met Ashley Memorial Day weekend 2009 at Tin Lizzy's restaurant in Buckhead, Atlanta. We had a phenomenal night of dancing at Johnny's Hideaway until 3am.  At the end of the night, she was gone…  I found her online, asked her out via facebook (lame-added by Ashley) and she refused to go out with me.  About one year later, for my 30th birthday, I had recently run into her again, and implored her to come out for my birthday.  She did and we have been together ever since!
Where and how did you get engaged?
In August 2010, we were living in Atlanta Georgia, we visited Miami for the weekend for a possible job transfer for Ashley. We fell in love with the city, culture, history and beach- Miami is such a gorgeous place!!  There on the beach, we decide to move and start our lives together.  So three years later, in May 2013, we went on a date to a restaurant on the beach.  We walked out to the spot that we decided together to move to Florida. I got down on one knee at first she was in shock but then she response with a exuberant Y!E!S!!!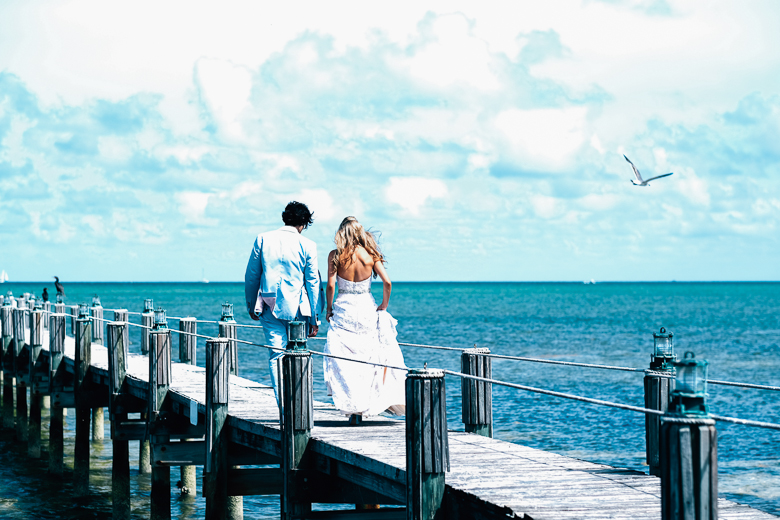 How have you handled the preparation of your wedding?
Dear friends of ours sent us a wedding guide book, we used elements from there as well as the internet to decide what key aspects of a wedding were important to us and what we ultimately wanted in our wedding. Then we divided and conquered each element. Wedding was a subject discussed fairly often at dinner and we would exchange ideas, pictures and thoughts until we came up with our dream wedding. There were times during the process when we were afraid something wouldn't work out but in the end everything worked out the way it was suppose to and we wouldn't change a thing!! Best advice I could give during the planning process is to remain calm and figure out  what you want as a couple and go with that! Everyone has an opinion and will try to throw you in a million different directions but as long as you stick with your vision, you will be happy and that's the most important thing!
Tell me about your wedding dress…
The dress turned out to be more amazing than I originally anticipated!! I bought the dress very early in the planning process, one month after we were engaged and I only tried on a total of 4 dresses. It was the dress I first walked up to in the store but I thought I wasn't a lace wedding dress type of girl (but I was so wrong)!! It was the last of the 4 dresses I tried and it was simply gorgeous! I loved everything about it!  The champagne underlying color gave a beautiful contrast to the antique ivory lace overlay and complimented by skin tone perfectly. I was beyond happy!! I took the dress to a local seamstress and we decided to jazz it up with a blingy rhinestone belt (because I am so that girl!) and we changed the champagne buttons to ivory so they would pop more. I was so pleased with the outcome!
Dress Designer: Marisa
Tell me about the people you chose to work on your wedding?
Our photographer was quite special.  Fred Frognier from K-Pture Photography and I were foreign exchange students when we were young.  We lost contact for 15 years, but reconnected through facebook.  Fred is an excellent photographer and takes a unique perspective vs. the American looking pictures.  We instantly were drawn to his images and thought it would be even more special since we were long lost connection.  Fred jumped at the opportunity and the photos turned out perfect, absolutely perfect!! I look at a lot and them and feel like it's a magazine ad and I want to go there, then I remember it's us in the pictures….lol!! They are unbelievable!!
Our rings were custom made by Kenyon Diamond in Atlanta Georgia.  Ashley wanted a skinny band with lots of diamonds!
Food was extremely important to us. We meet with different vendors and try different foods until we found the perfect fit with Chef Wes. Chef Wes and his crew were amazing to work with and delivered delicious results!! Tastings are a must too in the food department, many vendors were great in conversation but their food results were bad; try before you buy!
We had a local DJ KRYS that we found from scouting different music venues in Miami. And the mad violinist Ashanti Floyd, who is 5 time Grammy nominated, killed it on the violin. Everyone thought Ashanti and DJ KRYS knew each other for years because they played together seamlessly but they had actually just meet that day! It was an amazing collaboration between them!
Trinity VanSteenburg was the day of coordinator and delivered great results. I would strongly recommend all wedding have a day of coordinator because so many last minute details come up and she was there to handle them all. For example, our rental company (who I am not recommending) delivered the wrong linens and she would not pick up her phone, respond to an email, etc. so Trinity literally had to drive to her office and get new linens. That is a mess that a bride doesn't want or need to deal with on her wedding day! Day of coordinator is an absolute MUST!
I would say the key to vendors is to find people you can trust to deliver the results you excepted!
Which was the best moment of your wedding day?
For Michael – My favorite moment was while waiting for Ashley to come down the aisle.  I was nervous, emotional and felt like it was taking so long for her to get to me.  As she was almost to the alter, her dress got caught on something… She kind of tripped and immediately felt comfortable.  I new the person walking down the aisle was my love and best friend.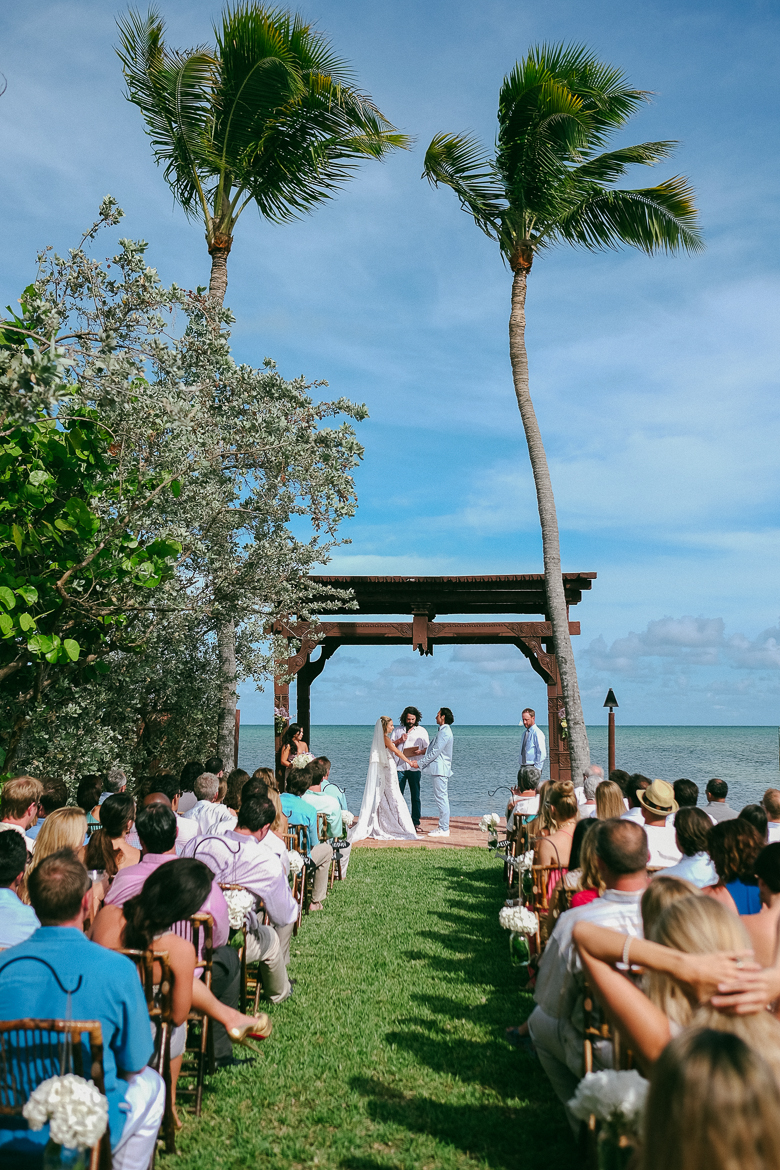 For Ashley- My favorite had to be the first looks, it was so fun having that time with Michael right before everything started. I loved walking out to the dock to meet him…there was so much excitement and nervousness in those steps. And I loved being able to twirl and show off the dress to him and get lots of kisses!!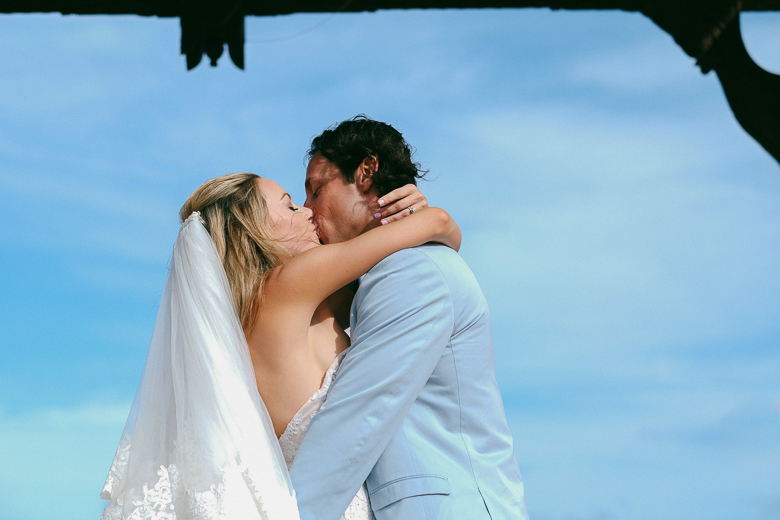 Do you have any advice? What would you do the same? What would you change?
Michael : Enjoy the moments – the day goes by so fast… and try to have family and friends involved in the details.  They appreciate it and so will you.
I have to echo Michael's words, the day goes by in what seems like seconds; take the time to take it all in and appreciate all that you have accomplished to make the day truly special. Give lots of hugs and take lots of pictures!! We had over 3,000+ from the weekend and would be happy with another 3,000 more!!
I wouldn't change any details of the wedding, it was beyond my highest expectations and the greatest day ever!

Merci à Fred de m'avoir proposé ce reportage de stars et plein de bonheur aux heureux mariés!